I think we can all admit that so far, 2020 has evolved into a very difficult year. However, for women's sports, in particular, it at first seemed like this as if this year was destined to be big.
On the heels of the U.S. Women's Soccer Team winning a fourth World Cup title, the nation rallied around the team as they sued its governing body citing blatant misogyny and gender discrimination. The National Women's Hockey League struck a deal with protesting players to increase salaries and benefits. Later, the WNBA and its players' union settled on an agreement that would potentially double player salaries and provide maternity leave and fertility options for players. In the Spring of this year, CBS committed to gender-balanced coverage across all of their platforms, which would have surely been most evident during their coverage of the 2020 Tokyo Olympics.
With many more incredible moments, battles won, and rallying cries received for women's sports and its players during the first half of this year – far too many for me to mention here – the year just felt different. It felt like something truly revolutionary was happening.
Then a pandemic exploded across the globe and shut down entire countries, a centuries-old battle for equality for Black people reached the front doors of millions of Americans, and the search for a leader of our country became more important than ever.
However, through all the darkness, there have been consistent bright glimmers of hope in women's sport so far in 2020, at least. In particular, there have been incredible examples of women breaking the glass ceiling and staking their claim in typically male-dominated roles in the sports world.
ALYSSA NAKKEN
Assistant Coach, San Francisco Giants
First woman to hold a full-time coaching position in Major League Baseball
First woman to coach in an on-field capacity in a Major League Baseball game
Prior to joining the Giants staff as an intern in 2014, Nakken was a standout softball player – both on the field and academically – at Sacramento State. Later, she would obtain a master's degree from the University of San Francisco, where she served as chief information officer for the baseball team.
"I feel it's my job to honor those who have helped me to where I am," she told MLB.com in February. "Coaching, I never saw it. This job has kind of been hidden for so long. I'm so excited to be in this role for the challenge and the opportunity to make an impact for this organization that I love. But also, I'm excited that now girls can see there is a job on the field in baseball. It's really cool."
Congratulations on making history! https://t.co/lDVapd3DPi

— Hunter Pence (@hunterpence) July 21, 2020

STEPHANIE TRAVERS
Formula 1 Trackside Engineer
First Black woman on a Formula 1 Podium
Only Black woman to hold a technical role on a Formula 1 team
In March 2019, Travers, who hails from Zimbabwe, was selected from 7000 applications to be the Petronas Trackside Fluid Engineer (PFET) on the six-time consecutive F1 Championship Mercedes AMG Petronas Motosport team for the 2019 season (and onwards). According to Women on Wheels, consecutive wins at the most elite level or racing require not just the very best talent in the world, but also the best engineers in the world.
"Growing up, I used to watch races with my dad and travel to some races with friends," Travers told Popsugar. "It's something that I've always aspired to one day work within. I tailored my education with the goal of becoming a trackside fluid engineer."
TORI MILLER
General Manager, College Park Skyhawks
First female General Manager in G League history
Miller joined the Skyhawks, the Atlanta Hawks NBA G League affiliate, after spending two seasons with the Erie BayHawks, the New Orleans  Pelicans NBA G League affiliate. Prior to joining the G League, Miller spent two seasons as an intern with the Phoenix Suns.
"It means the world. I didn't realize the magnitude. I receive about ten or so messages every two weeks from girls looking to break in. They let me know that they see me and it means the world to know that I'm making an impact on their lives," Miller said.
Congratulations, Tori! 👏 https://t.co/kXfulNw06T

— Atlanta Hawks (@ATLHawks) July 9, 2020
ASHTON WASHINGTON
Director of High School Operations, University of Illinois Football
First Black female staff member in Illini Football history
In early 2019, Illini Football Head Coach Lovie Smith, expressed his interest in addressing gender inequality in college football. His staff of coaches was already one of the more diverse in college football, boasting seven Black assistant coaches – the most among all Power Five Conferences – and even the only Hispanic-American strength and conditioning coach at any Power Five football school. "One of these days," Smith said, "you're going to see a female walking down these hallways."
By May, the world would see just that. Smith named Ashton Washington, who previously served as a business and game day ops specialist for the Houston Roughnecks of the now-defunct XFL, as the program's new director of high school relations solidifying her as the first Black female staff member in Illini Football program history.
5 National Championships.
15 Big Ten titles.

I joined the Fight.#TX2ILLINI#JoinTheFight pic.twitter.com/xNHqScCXq7

— Ashton Washington (Coach A) (@Ash3Washington) May 19, 2020
TAMARA MOORE
Head Men's Basketball Coach and Head Women's Softball Coach, Mesabi Range College
First Black woman hired as a Head Coach for a Men's U.S. College Basketball program
Only current female Head Coach of a Men's Collegiate Basketball program
Moore, a former WNBA player, was always a trailblazer. She was the first woman to play in the Minneapolis inner-city, all-star classic game for the top boys in the area – there was no women's game. She has also been the owner of a semi-pro men's team and a semi-pro men's league.
Moore's hiring also follows a record 11 women who served as assistant coaches in the NBA 2019-20 season. However, a woman has never been named a head coach of an NBA team or even a Division I men's team.
"I'm honored to coach on any level," said Moore, who told ESPN that her ultimate goal was to become Division I head coach. "I've never been doubted about my coaching ability. I just think it's all about opportunity. The message, with my hiring, is that the ceiling is now broken, and let's just take it even further."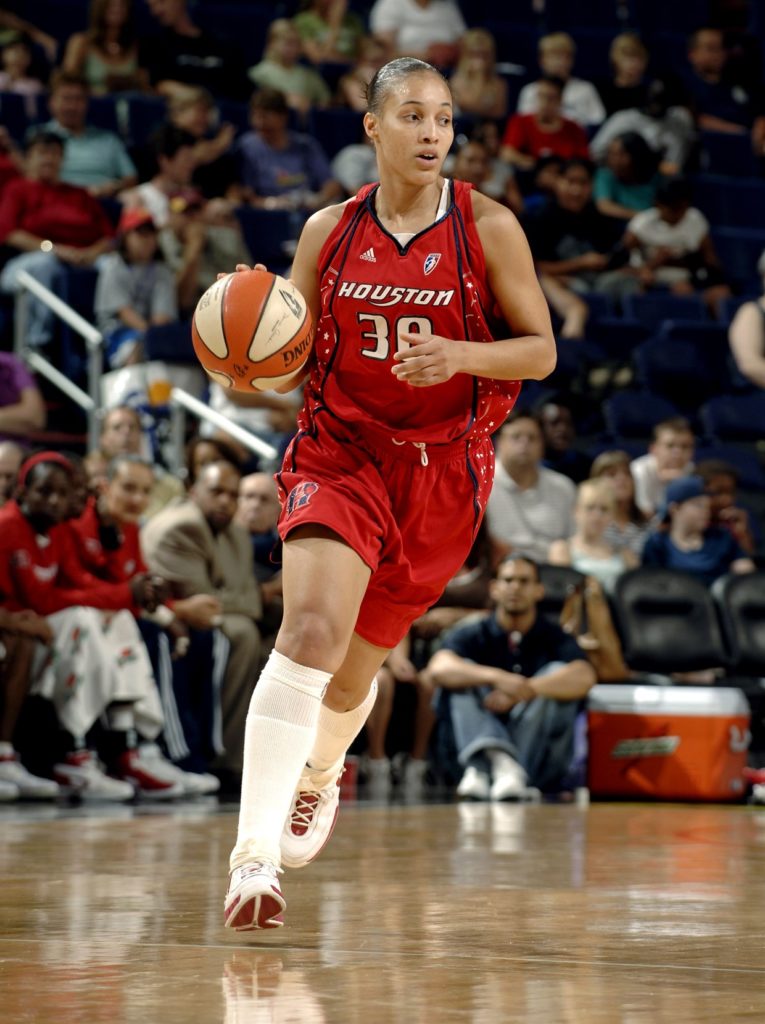 CINDY PARLOW CONE
President, US Soccer Federation
First female President of US Soccer Federation
After Parlow Cone played for the U.S. Women's National Team from 1996-2004 and was a member of the historic 1999 FIFA Women's World Cup championship team. She also won two Olympic gold medals (1996, 2004) in a career that spanned 158 caps and saw her score 75 international goals, which is eighth all-time in U.S. history.
Inducted into the National Soccer Hall of Fame in 2018, Parlow Cone was a four-time All-American at the University of North Carolina and was on teams that won three NCAA titles. She was also the first head coach to win a National Women's Soccer League championship.
I have known Cindy Parlow Cone for over two decades as both a teammate and friend. She has always led with integrity and a commitment to others. I have no doubt that she will dedicate herself to making our game better for all.

— Mia Hamm (@MiaHamm) March 13, 2020
JENNIFER KING
Coaching Intern, Washington Redskins
First woman to coach for the Washington Redskins
From Redskins.com: King has played quarterback for more than a decade, and when she was not throwing touchdown passes, she was teaching the game both collegiately and professionally. She worked at Dartmouth College and in the Alliance of American Football. For the past two offseasons, she served as an offensive coaching intern for the Carolina Panthers under Ron Rivera.
All of this hard work and sacrifice culminated on Tuesday when the Washington Redskins, now led by Rivera, announced her as a full-year coaching intern. She'll primarily work with the running backs and also assist with quality control.
To many, she's a pioneer for women in professional football as the first full-season African American female coach in the NFL. But to King, the journey towards her ultimate goal [of being a coordinator] has just begun.
Jennifer King is making her mark in the NFL 🙌 pic.twitter.com/urCXlydZmX

— espnW (@espnW) February 11, 2020
CANDICE LEE
Athletic Director, Vanderbilt
First female, Black Athletic Director in the SEC
Lee was a captain on the women's basketball team at Vanderbilt, graduating in 2000 after helping the Commodores reach four NCAA tournaments. She later earned her master's degree in counseling in 2002 and a doctorate in higher education administration in 2012.
Lee is now the fifth female athletic director among the Power Five conferences, joining Penn State's Sandy Barbour, Washington's Jennifer Cohen, Pittsburgh's Heather Lyke and Virginia's Carla Williams. Williams, in 2017, became the first African American woman to become an AD at a Power Five school.
"It's really interesting and humbling to hear words like pioneer and trailblazer, and I appreciate that. I know it's significant, and it just reminds me of the responsibility that lies ahead," Lee said on Freddie and Fitzsimmons on ESPN Radio. "I want to do a great job for all the people that I'm working with and for, but I also want to make sure that I'm not a deterrent when there are other opportunities presented to other people of color and other women and other people who are deserving of opportunities. There are a lot of people out there that just need a chance, and so if part of this can mean that there are more opportunities to come for others? I'm really excited about that."
As we look ahead toward the second half of 2020, there is so much that is unknown. In fact, there often seem to be more problems than solutions that lie ahead of us. However, the one thing I am sure of is that no matter the circumstance, women will continue to break the glass ceiling and fight for representation whether it be on the field or in the board room.
In fact, perhaps I am sure of two things actually; the second being that this list will only get longer.
By Carey Luce
Board Member